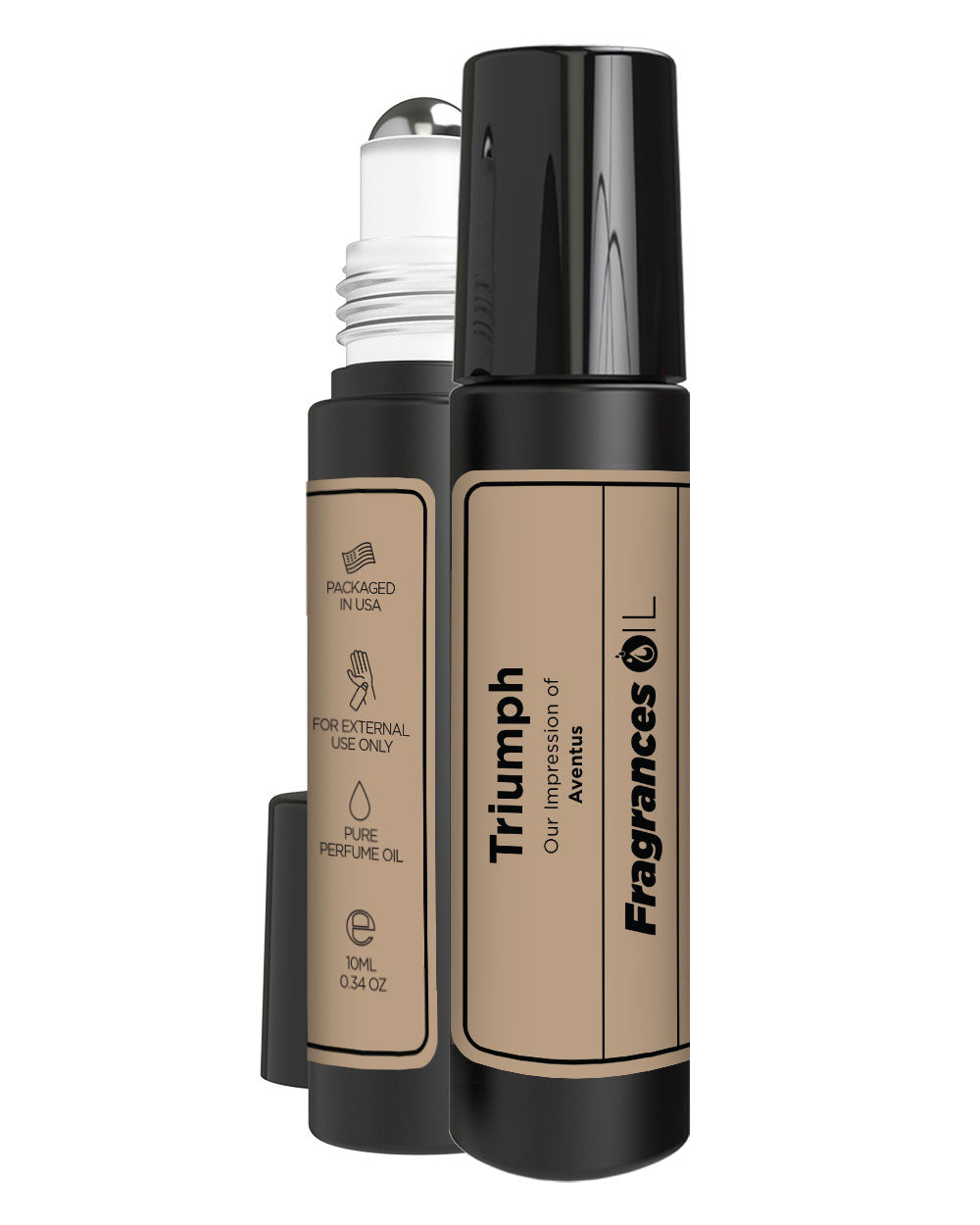 Triumph
Our Impression of Creed's Aventus
Sale price
$16.99
Regular price
Our impression of Creed's Aventus is a refreshing and invigorating scent that will captivate your senses. The fragrance opens with a burst of clean, crisp energy, before revealing a luxurious blend of bergamot, rose, oakmoss, and patchouli that embodies the exclusive perfume writing structure known as Chypre. As the scent begins to fade, a soft and subtle musk undertone lingers on the skin, leaving you with an irresistible craving for more. With its refined and pleasantly surprising aroma, Our impression of Creed's Aventus is the perfect embodiment of British sophistication hidden beneath a casual exterior.
 Handcrafted

  Alcohol Free

  Clean, Vegan & Cruelty Free

  Paraben Free & No Phthalate
Why choose Fragrances Oil?
Fragrances Oil is significantly designed as less expensive than designer brands.

Is fragrance Oil is long-lasting?
Like other designer brands our fragrances are equally long-lasting, we used the same ingredients.

Difference between perfume and fragrance Oil?
The perfumes are made of alcohol, alternatively, the fragrance oil is alcohol-free.

Where should I apply my perfume oil?
Applied to pulse points like the wrist, neck, inner elbow, and behind the ears, helping to release the fragrance because heat passes from these areas.
Notice: Fragrances Oil competes with the designer brands. It does not use their fragrances and is not associated in any way with the designer brands or their manufacturers. All trademarks are property of their respective owners.
High-Quality, Authentic Aroma
Who says luxury fragrances need to be expensive? This fragrance oil offers a similar scent profile to Creed Aventus at a fraction of the cost. Thank you Frangrances Oil
Long-lasting Fragrance
with lemon top notes and then middle & base notes are a mix of flowers, which creates a sweet floral smell. loved the smell, lasts more than 7 hours!!
Luxury in a Bottle
This fragrance oil is truly impressive. It lasts all day and exudes a captivating aroma that keeps me feeling fresh and confident, now thinking to try other dupes too.
I would highly recommend
Whenever I go out, I wear this oil for a fresh and pleasant scent. And the people around me say it smells really good. Love it!!
fresh and fruity scents
I HAD A GREAT EXPERIENCE WITH THIS FRAGRANCES OIL, PROBABLY THE BEST OIL AND BRAND OUT THERE. ThANK YOU FOR AMAZING PRODUCT AND SERVICE!!